I Cent my daughter money for textbooks.
Cent Quick Money Transfer Tool
The faster, simpler way for personal banking customers to send and
receive money is here.
I Cent $20 for Emily's birthday lunch.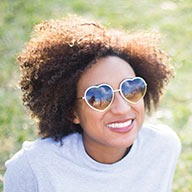 I Cent money for the community bike‑a‑thon.
Send money to anyone, anywhere.
No fees. No hassles. No complications. Just Cent.
It's easy to sign up.
How do I use it?
Just follow three simple steps:
Download the First Bank mobile banking app.
Enroll your First Bank debit card.
Send or receive funds from anyone.
No need to dine then dash to the ATM.
With a few quick clicks in the First Bank mobile banking app or online banking, send funds to anyone (even non‑First Bank customers) anywhere at any time.
Unclaimed funds are automatically returned to you, usually within 10 days.
Enjoy same‑day deposits with your debit card.
When sending funds, your recipients only need to provide a name, debit card number and expiration date to access the money right away. ACH transactions are often processed within a day or two.
Transactions are kept private.
Don't worry about people browsing your transaction history, it's for your eyes only. Plus, you can easily track deposits and transfers through your secure First Bank mobile banking app or online banking.
I Cent $10 for the office lottery pool.
Ready to get started?
Don't have the app?
Download it.
Cent is available to retail clients for personal payments. To use the service the sender must have a debit card associated with the First Bank account that the funds will be sent from. Recipient of the funds must have a bank account in the United States. Cent is part of First Bank's mobile banking app and online banking and is free for First Bank's personal banking clients to use, but your mobile carrier's message and data rates may apply. Transaction limits apply, please refer to
Terms and Conditions
for full details.