Dream It Do It Contest
When Dreams Come True, Communities Grow Stronger
The Dream It. Do it. Contest was conceived to help deserving families and individuals, demonstrate community support, and to raise awareness of First Bank and its full-service offerings. Now that it is concluded, we can only declare it a resounding success.
Meet our winners!
Christopher Branch
Computer for a Student
Christopher Branch is a 16 year old who is a freshman in Fairmont, NC. He is in need of a computer to help him with his school work. He was just transferred to his third foster home since 2011. He is being provided with the basic necessities, but there is no money available for other needs.
He is from the East Lumberton area and attempted to begin kindergarten when he was five years old. He was then placed in homebound services through the Public Schools of Robeson County. He was unable to go to school like other children because his immune system was so weak the common cold would send him to the hospital. He was born with a rare type of dwarfism called Cartilage Hair Hypoplasia Syndrome, along with this comes a history of recurrent pneumonia with resultant bronhiectasis (progressive lung disease), reactive airway disease, gastro-esophageal reflux, and a low t-cell function. The low t-cell function caused him to need a bone marrow transplant.
He was in Duke's Children hospital for a year because the first transplant was unsuccessful and he required another procedure. The same year he was released he returned to Homebound Services. He began school in the fourth grade at Tanglewood Elementary and then moved to the mountains of NC for three years with his second foster parents.
He has now returned to Robeson County to live but is in need of help with his school supplies. He would be so appreciative if you could help him with getting a computer.
Kim Smith
A Chance to Dance
I started A Chance To Dance in the summer of 2015 with 7 students and I now have 43 affected by Autism, Down Syndrome, Blindness, Tuberous Sclerosis, Cerebral Palsy, Schizencephaly, Williams Syndrome, Double Amputee, Achondroplasia, Seizure Disorder, Sensory Integration Dysfunction and many other special needs.
A Chance To Dance believes that God has a plan for these children, that we should love them through their journey and imagine all the wonderful things they will accomplish and we use the magic of dance to help children build friendships, confidence, skill and a sense of accomplishment.
We have a recreational and a competitive special needs program for our dancers who are differently abled and my DREAM is to have our own studio space just for these students. Right now we use a lovely room at a studio but it's only available on the weekends and we've outgrown the space.
We have students on a waitlist but if I were able to offer more classes during the week we could provide dance to more families and the kids would feel so special having their very own dance room where we could hang all their dance photos and make it theirs. Please help me make my dream come true for these very deserving children.
The funds would be used to expand the program through access to rental studio space and the operating costs for that space. If we were blessed to be awarded a smaller amount funds would be used for recital costumes, music, classroom props, dance scholarships and regional, national, and world entry fees for our special needs competitive teams. I dream BIG for these kiddos. Thank you for your consideration and God bless you for what you're doing.
Chase Clark
Helping a Teen Help Others
13‑year old Chase Clark is the founder and visionary of Chase's Chance. She is a vivacious young lady who believes where there is a need in the world, we should help!
She began raising funds by asking neighbors, church members, anyone who would listen, to save aluminum cans which allowed her to save and contribute towards others and their needs. She sponsors needs such as paying for a child to attend a field trip so that they are not left behind, opening a teachers closet so that a school has resources throughout the school year for students and teachers, paying towards lunch debt so all children can eat without the fear of being turned away, and toiletry items to Puerto Rico and Rwanda. This list certainly goes on but she does this day in and day out. Most recently, she sold t‑shirts and candles and asked the community to jump in and assist with larger projects, such as raising money to donate to Make‑A‑Wish or towards the Children's Home Society of NC.
My request for her is two‑parted. Because she does so much for others I would love to see something be returned to her on a personal level. Perhaps a small portion to go towards her with a laptop to help organize her organization, a bedroom make‑over, a trip, or perhaps a small shopping spree. Perhaps some funds towards her college fund, to help live her dream of attending UNC or Spellman at the college level. It is rare that she ever ask for anything so I felt it important to include Chase.
Next, I would love to see that a donation be made to her program which will allow her to move forward with her mission to serve. Since the 2nd grade she has risen to the occasion where there is a need in sight and in 2013 Chase's Chance was born. She is unknowingly changing the face of how we determine our level of service to the local and international community. Her influence at this age reminds us that we all can bring change without excuses. She encourages many to want to "do better." With your help she can continue to move "mountains" and encourage others to continue to put one foot in front of the other.
Bryan Bennett
Home for a hero
My brother is 32 years old and has been a firefighter since he was a junior in high school. He volunteered for 10 years and was then promoted to paid staff, and he's now Assistant Chief for Howe Springs Fire Department.
His passion for the fire service is apparent. He consistently works a full week, and still runs calls after hours, and on the weekends he helps with events and training. In addition to his responsibilities as a firefighter, he has not just participated, but organized and managed numerous fund raisers and donations for various individuals in need around the Florence community. This past year he organized a golf tournament and a charity ride to benefit injured firefighter/paramedic, Tessie Smith. During Hurricane Matthew he worked 72 hours straight rescuing/evacuating people, and then after the hurricane he gathered donations and delivered the collections to the Nichols community.
My brother works so hard and gives so much to our community, but because of the limited salaries of firefighters and his selfless contributions, he's found it difficult to save enough money for a down payment on a home. He currently rents, and it's his dream to marry his fiancé, Brittany, this December and buy a home. So when I saw a brochure in my local First Bank branch, promoting a contest to make dreams happen, I immediately thought of my brother. I would love to see First Bank make the dreams of this firefighter come true. I can assure you there is no one more deserving than this local hometown hero.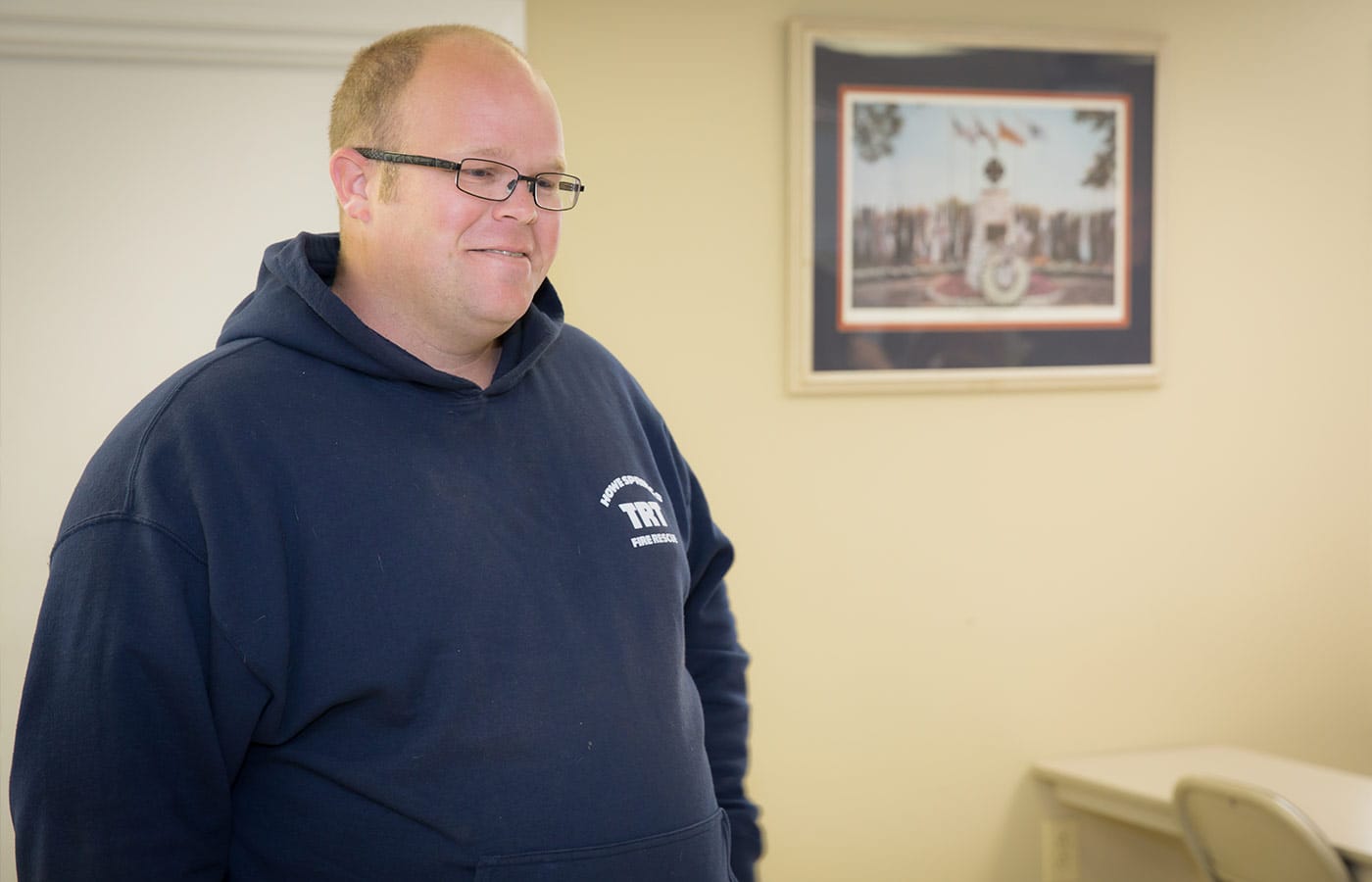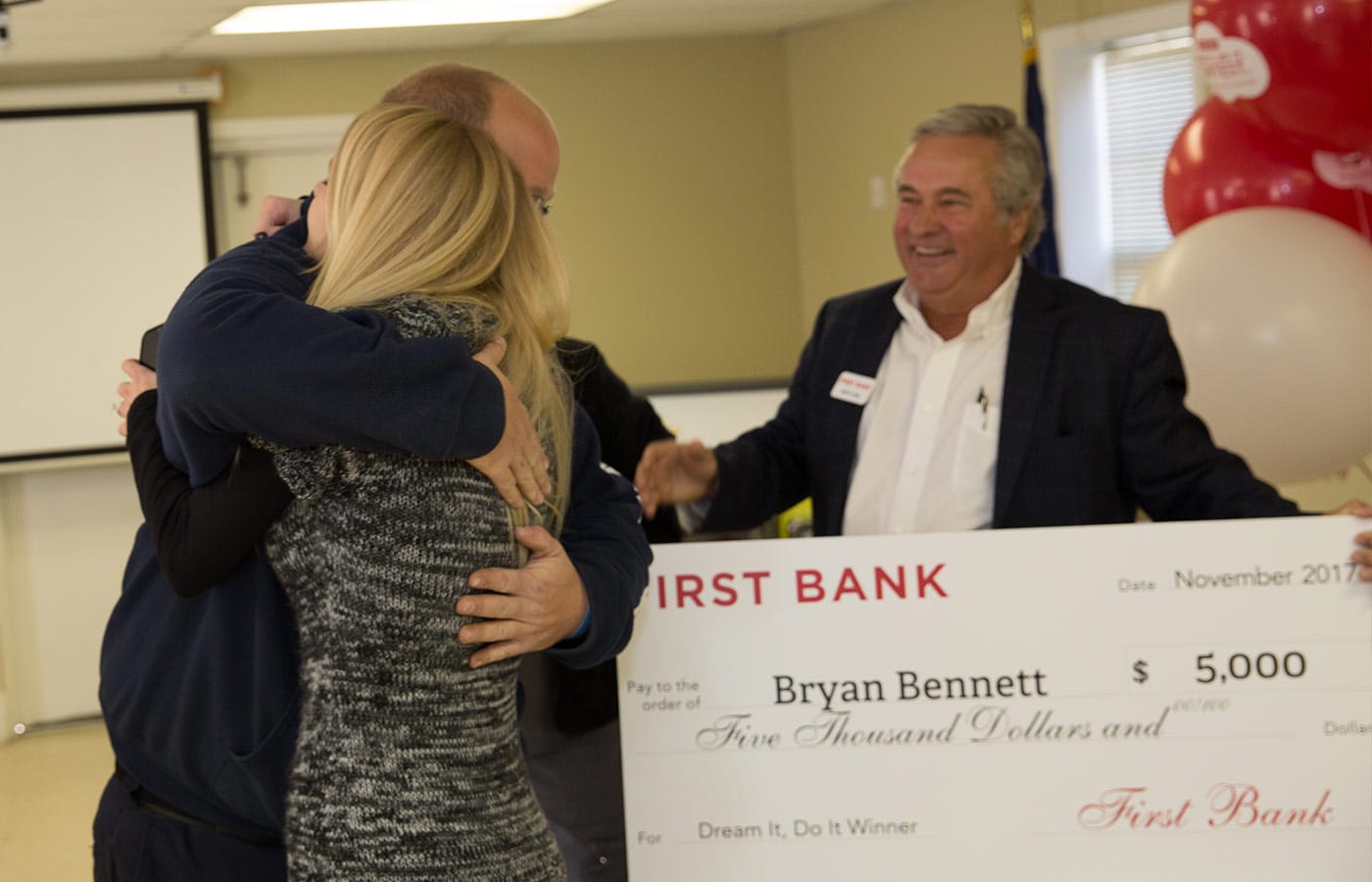 Jamie Adams
Quality of life renovations

In 2000, my husband and I moved into our home and it was perfect. The bedrooms were upstairs so the mess and clutter would be hidden and the living space was all downstairs. Fast forward to 2004, and our youngest daughter was born. Around a year old we started to notice that something was not right, she was not hitting milestones like her sister.
A month after her third birthday Jamie was diagnosed with Spinal Muscular Atrophy (SMA). SMA involves the loss of nerve cells called motor neurons in the spinal cord, which results in the atrophy in Jamie's muscles. Jamie has been in a wheelchair since she was 5 years old full time.
Our house has now become Jamie's biggest obstacle in her independence. Our dream is to add a handicap bathroom and bedroom downstairs for Jamie. Jamie is the most independent kid in the world, but is currently unable to wash her hands in her own home without assistance. We have been able to work through about half the funding, but the remaining has been a struggle.
Anita Autry
A Canine Helper for My Son
We are a small family of 3 which contains a special child, our son, Anton Jr. The county we currently reside in is Bladen County. Bladen County does not offer any assistance for individuals with ASD (Autism Spectrum Disorder). Our son was diagnosed with ASD in September 2013, not to mention other disorders he has.
Anton Jr. is 10 years old and is very intelligent with technology devices. He communicates with others by typing but when talking to us he whispers quietly. Public outings are not good; every day is a challenge. Most of the time, my husband and I take turns with appointments and grocery shopping due to our son's severe anxiety of people, noises, places, and sensitivities (light/sound). He cannot sleep without either one of us being beside him.
My dream is to use the funds for the purchase of a service dog. They will provide our child the support and emotional security he truly needs. An Autism Service Dog will provide substantial support for everyday living. The service dog will offer comfort from the anxiety and coping with life issues that affects him significantly.
The gift of receiving these funds for our son will mean so much to our him (Anton Autry, Jr.) and us. Words cannot fully express our gratitude in being able to obtain a godly act of kindness. Thank you for providing the possibility of making this dream a reality.
Silverio Herrera
Achieving the American Dream
My husband is the hardest worker I know. Originally from Mexico, he has worked hard to learn the skill of laying concrete for the last 11 years. He works 70-80 hours a week in the hot sun, often without a lunch break as he is so busy. After getting his residency several years back, his dream was to own his own concrete company. We were on the way to making that dream a reality when our then 20‑month old son was diagnosed with cancer.
Through 3 1/2 years of treatment, and now 2 years after treatment, my husband has worked tirelessly to pay for medical bills, traveling to specialists and supporting our family. He has obtained insurance for business and does side work for homeowners on the side on the weekend just so I can stay home and take my son to the myriad of medical appointments he has as he now has severe Intractable Epilepsy from his chemo treatments.
Slowly my husband has started saving again to launch his own company. He wants to be his own boss and bring in more income so he can make sure that we are always secure and I can continue to stay home with our 6 year old son and 5 year old daughter to just concentrate on them and their health. The biggest obstacle he faces is buying heavy equipment to be able to contract out his services. Specifically a Skid Steer. We have some money saved, yet in need of more to be able to buy a quality used Skid Steer which is pertinent to a business in concrete. A grant of 10K to help be able to purchase a Skid Steer would ensure that he could finally begin to contract out his services, make a higher income, and ultimately spend more time with his family.
He came here for the American Dream so many years ago, and he is determined to obtain that dream, along with the dream of getting his Citizenship soon. He is proud to be able to pursue that dream with hard work and optimism, and show our children, especially our son, that no matter what happens in life, if you work hard you will prosper. Thank you for the opportunity to help my husband make his dream...OUR dream a reality!