Small businesses, prepare for success.
Small businesses are the heart of the Carolinas. That's why we've designed this account: robust digital banking tools, up to 250 free transactions each month, and more. Your success is our success.
Perfect for you if:
You own a small or mid-sized business.
You want personalized banking service.
You're looking for a flexible account that will support your growth.
Account Features
250 free transactions per month1
Up to $10,000 cash or coin/currency deposits at no charge2
Free digital banking3
Free online bill pay
Free 24-hour telephone banking
Free eStatements or paper statements
Free direct deposit
Rewards with your First Bank debit or credit card4
Account Fees
You can easily avoid the $10 maintenance fee by meeting the following requirement during the statement cycle:5
Maintain a $1,000 minimum balance

or

Maintain an average collected balance of $2,000
Account Benefits
When you choose First Bank checking, you choose easy-to-use benefits that simplify your business banking.
Business doesn't sleep. Neither should your bank.
When you own a business, you may need your bank at any time. That's what First Bank digital banking is for.
Find Out More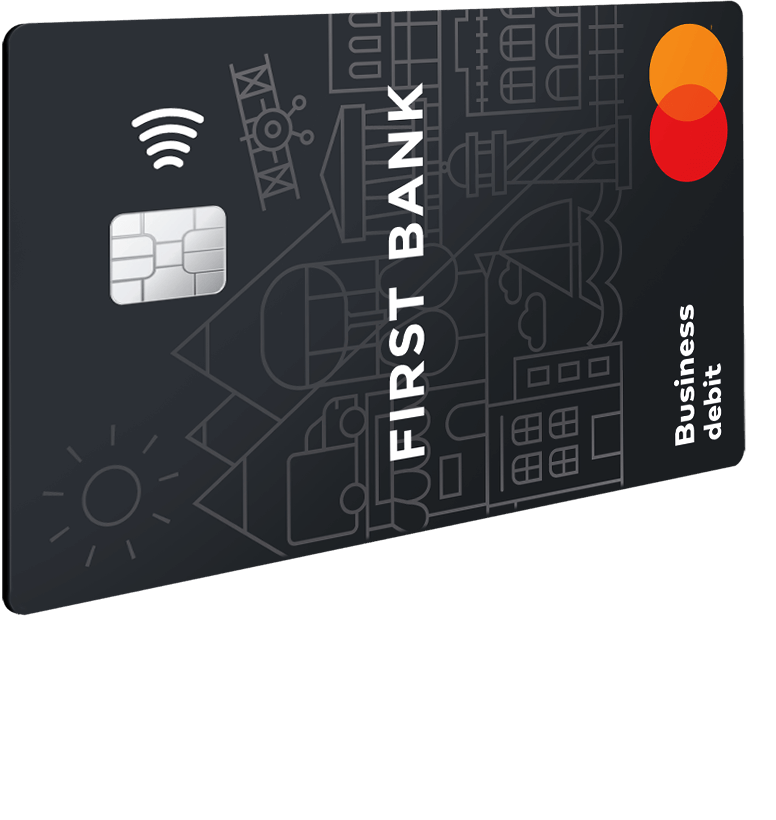 A business debit card with rewards.
Get more back for your business with 24/7 service and constant rewards, just for keeping your cash flow flexible.
See The Card
A transaction is defined as any checks paid, deposits, each deposited item, ATM withdrawals, debit card transactions, online and telephone funds transfers, and ACH debits and credits. There is a fee of $0.40 per item for each item in excess of 250 per statement cycle (or month).
A fee of $0.18 per $100 on all additional cash deposits.
While First Bank does not charge for mobile banking, your mobile carrier's message and data rates may apply.
When you enroll in the One Rewards Program.
Account holders may avoid the Monthly Maintenance Fee by meeting any of the requirements listed in the Keep if Fee Free™ section of the account summary table for their account type. Other account service fees may apply as described in the Account Services Fee Schedule, which is also available at your local branch.