Mobile Check Deposit
Deposit a check anywhere. Safely and securely.
First Bank's mobile banking app makes depositing a check as easy as snapping a picture on your phone.
Deposit checks before 6 pm on a regular business day and see funds available the next day if approved*
Deposit checks from your smartphone or tablet device
Get email notifications that deposit was received
Depositing a check on your phone or tablet is just as secure as handing it to your local teller
Ready to deposit a check?
Step 1
Download the mobile application from the Apple or Android app stores, or use our text to download tool.
Step 2
Once you've logged into the app, you'll need to opt into mobile check deposit. Click on the Menu button in the upper left corner, click Mobile Deposit, and then select Mobile Deposit Enrollment. Accept the Terms and Conditions and restart your app.
Step 3
After restarting the app, click on the Deposit check option under Mobile Deposit. At the next screen, select the account to which you'd like the funds deposited, enter the check number and the dollar amount. Then click Capture Image.
Step 4
Once you're back in the app and your phone camera is activated, you will need to take a photo of the front and back of the check you'd like to deposit. Be sure the check has been endorsed by all payees and designate the item as "For Mobile Deposit Only." Your screen will show you which side to capture, and the helpful brackets provide size guidelines.
Step 5
After you have taken photos of the front and back of the check, you will be asked to confirm the images. If everything looks good, click on Submit Deposit to finish the transaction. If you have made this mobile deposit before 6 pm on a regular business day, you will see the funds in your First Bank account the next day.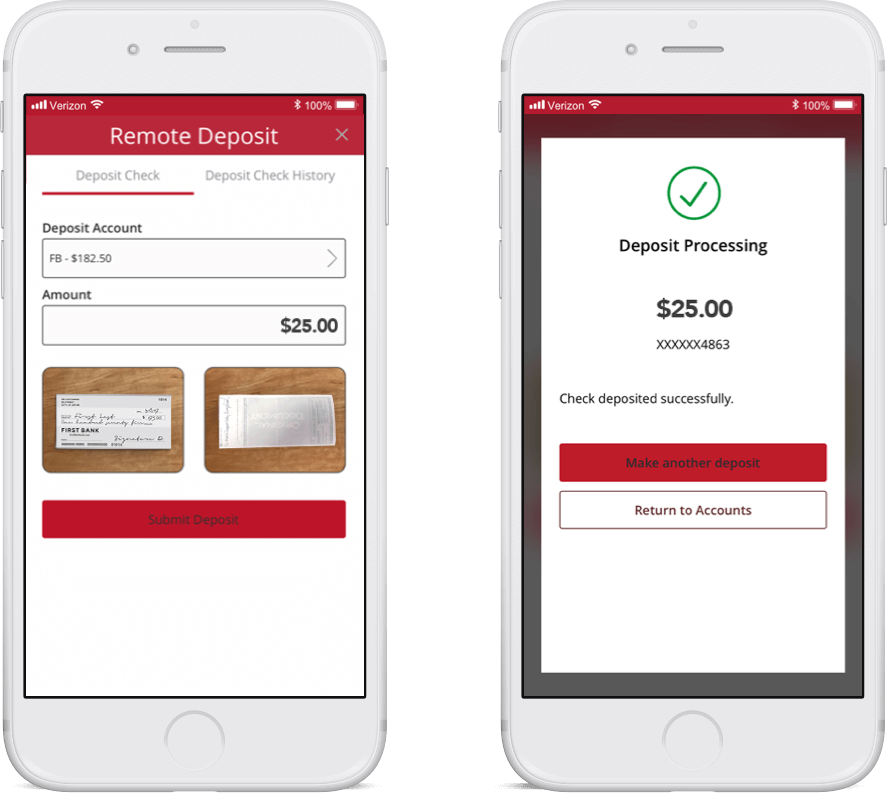 *In order to ensure the security of our bank and its customers, we set certain limits on the amounts and frequency of deposits via mobile devices. Limits are per any 25 consecutive business days. If you have both personal and business accounts, the business limits are used for each cycle. Limits vary and are based on account balances and conditions at the time of the deposit.