MyMoney Features and Facts
Easily manage your budgets, track your spending and modify your payback plan for debts.
When you log in to your online banking, you'll see several links at the top of the Account Overview page. You can click a link to access a widget, such as Budget or Spending.
Budget
Create spending categories and track your budget progress each month. Sort your transactions by designated or custom categories (like dining out, gas, groceries and more) to keep things organized in a way that works for you. To get you started, MyMoney creates an initial budget that you can tweak to your needs.
Debts
See all your debt accounts in one place and calculate how making extra payments can affect your debt over time. Modifying the payoff approach will reorder the accounts in the order of priority/focus for that particular plan (for example, highest percentage, smallest balance, etc.).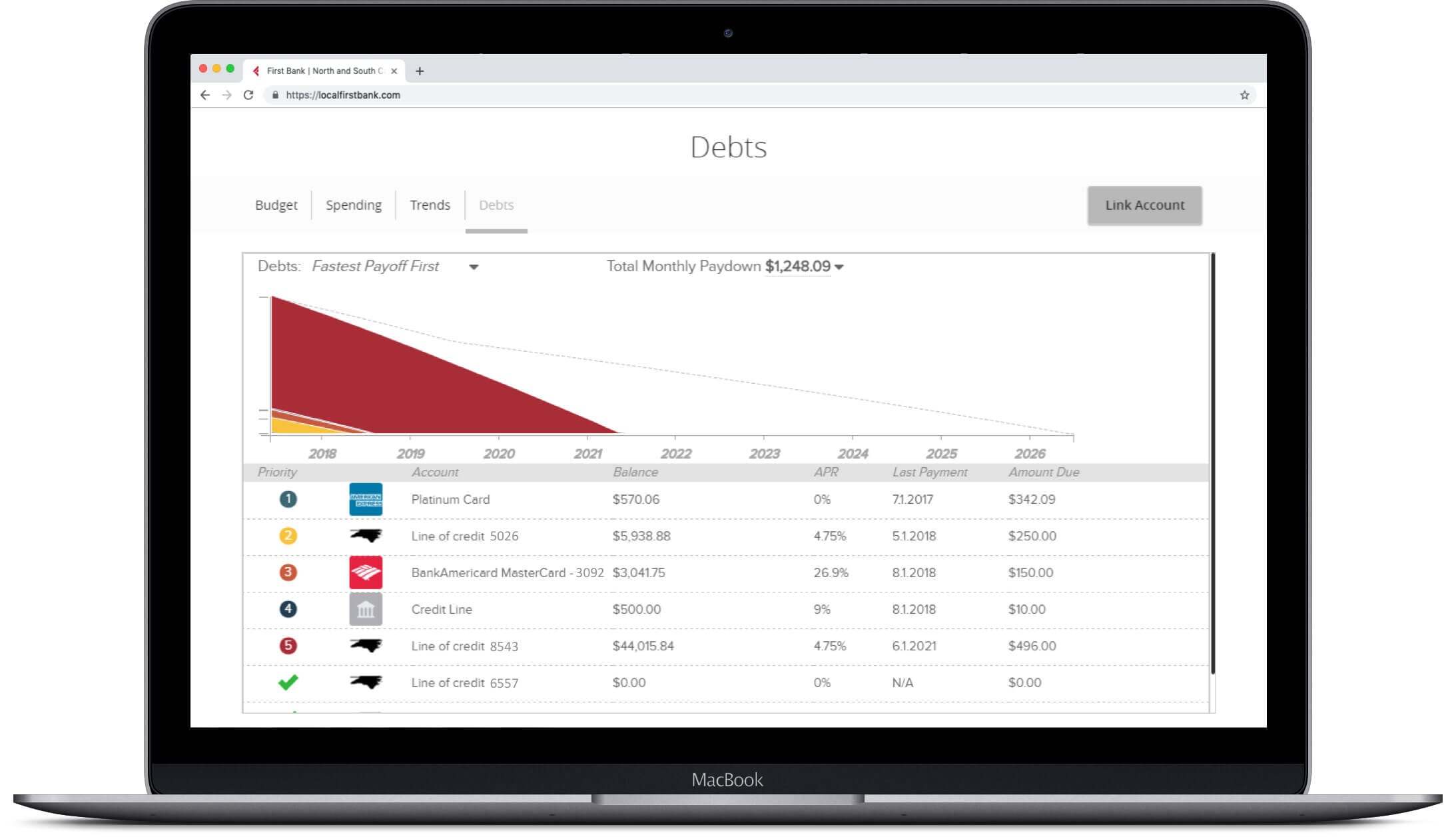 Spending
Get an easy-to-use overview of your personal spending habits.
Trends
Track spending as compared to income to note patterns and opportunities to save.
Linking Accounts with MyMoney
Link accounts
To get started, log in to First Bank's online banking. Click Link Account, the Link icon, or the Link Account tile that appears above the Account Summary graphic at the bottom of the page.
When the Link Account window appears, select a financial institution by either:
Selecting the name or logo of a financial institution, or
Typing in the name of a financial institution in the Search box
Provide credentials
When prompted, provide credentials to log into the other financial institution's online banking system. If they use multi-factor authentication (MFA), you'll be prompted to provide extra information, such as the answer to a challenge question or a secure access code.
MyMoney retrieves and displays all accounts tied to your credentials at the external financial institution.
Note: If account aggregation is delayed (for example, due to a slow server), a message will ask if you want to link more accounts while aggregation continues in the background.
Next, select a display option (Visible or Hidden) next to each account and click Continue.
If Visible is selected when linking an account:
The account appears on the Home page, and you can access the details about it
The account appears on the Account Preferences page, and you can edit the nickname, change the order in which the account appears, etc.
The account is aggregated (that is, included) in MyMoney.
If Hidden is selected:
The account does not appear on the Home page; this setting is useful for accounts that you do not interact with on a regular basis
The account appears in the Hidden Accounts section of the Account Preferences page, but you cannot edit the nickname, reorder the account, etc., unless you change the toggle to Visible
The account is not aggregated in MyMoney
Repeat steps to link additional accounts, as desired.
After accounts are linked, they appear in a Linked Accounts group on the Home page, providing you with a full financial picture. You can reorder, group accounts, and regroup accounts as necessary.